Process mapping
Process mapping
<
교육훈련
<

Process Mapping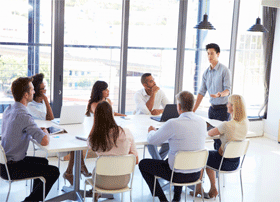 Introduction

This course is designed to teach attendees to map their business processes in order to identify where the processes need improvement, as well as how to document them.
For Whom

Managers, Process Engineer, Management representatives, Champions, Six Sigma Improvement green and black teams etc.
Objectives

Upon completion of the course the participants will be able to:
- Processes and process identification
- Process management
- Process management software
- Process mapping
- Facilitating a mapping session
- Collecting data
- Analyzing the process data
- Changing the process
- Improvement
Course Outline

Section I

Why Map a Process?

Section II

Process Mapping

Section III

Relationship Maps

Section IV

Cross-Functional Process Map

Section V

Analyzing a Process with software tool

Section VI

Case studies
Duration

8 hours (1 day)
Teaching Methodology

Is comprised of tutorials and practical workshops. Each module will have an associated workshop that encourages the participation of all the attendees.