Self Leadership
Self Leadership
<
교육훈련
<

Self Leadership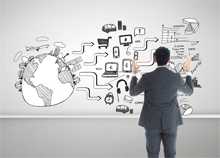 A Key to Achieving Individual Performance

Do you face the following challenges?

Your company is unable to retain its best people.
The workforce is not motivated to take responsibility for its own growth.
Goals, expectations, and objectives are not clearly defined, realistic, or attainable.
Employees donanjv possess confidence or understand their contributions value.
Accountability in the organization is low.
You work with a geographically dispersed workforce.

Situational Self Leadership (SSL) is a leadership process that provides techniques to help individuals at all levels within an organization go beyond just being responsive to being responsible. This program helps participants discover how to create an environment in which each employee is empowered to solve problems, take initiative, and ask for help when necessary.


The SSL process provides individuals with strategies for gaining more satisfaction from their work by challenging their notion of leadership, examining what motivates them, and building their confidence, knowledge, and skills.
Program Format

Utilizing the latest thinking in adult learning theory, the program helps participants learn new concepts, skills, and techniques in ways that are memorable, fun, relevant, and critical to integration and internalization. Using the metaphor of a magic trick allows individuals to feel and live the progression of developing from an Enthusiastic Beginner to a High Achiever in a matter of hours.


The new SSL program offers three design options, each containing the same core content. Each design includes as many as 37 accelerated learning activities that are selected and combined to best meet the needs of each client.
The three design options are:

The Magic of SSL: A two-day classroom experience
The SSL Ninth House® Interactive Online Experience: Includes a virtual launch, a self-study adventure, and one-day classroom follow-up
The Touch of Magic: A one-day classroom workshop with follow-up modules.
Benefits

Experience a work environment where you and other employees are in control of and take responsibility for your self development, career development, and success
Create a common language of leadership for your organization
Enable a process of Partnering for Performance between managers and direct reports
Accelerate learning cycles to be more productive on the job
Sustain and reinforce the leadership training of Situational Leadership® II and Building High Performing Teams®
Audience

Employees at all levels who need strategies for gaining more satisfaction from their work and who need help setting personal and professional goals
Trainers, organizational development and human resource managers